Abu Dhabi, 5 December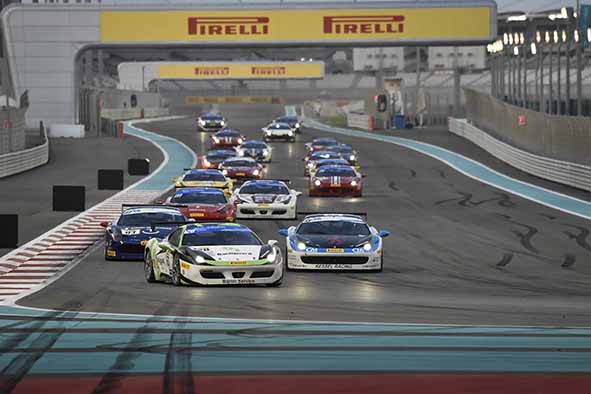 The Ferrari Challenge Europe ended its season with a spectacular race which was full of incident. Just as in yesterday's race, today the 458 Challenge Evo cars of all three race categories were involved in duels. On more than one occasion these went beyond what could be described as regular 'wheel-to-wheel' ending up in real and proper contact – a sign that there was still a lot of will to push and to chase the very best position possible. Such determination and will to win will be crucial in tomorrow's race that will decide the world championships in the Trofeo Pirelli and the Coppa Shell.
In today's race Germany's Bjorn Grossmann (Octane 126) won after leading away from pole position and duelling for a long time with Philip Baron (Rossocorsa). The Austrian tried to overtake his rival up to halfway through the final lap, when, as he was trying to get on the gas before Grossmann, he lost control of his car and had to give away several positions. Second place therefore went to Dario Caso (Rossocorsa – Pellin Racing), who partially made up for yesterday's disappointment, while the new champion Daniele Di Amato (Motor Piacenza) made it onto the third step of the podium.
In the Pirelli Am category the win went to Sweden's Martin Nelson (Autoropa) who came home ahead of the champion Ezequiel Perez Companc (Motor Piacenza), who made yet another appearance on the podium, and Belgium's Florian Merckx (Kessel Racing). In the Coppa Shell there was more German success thanks to Dirk Adamski (Saggio Racing Team) who got the better of India's Gautam Singhania (Stratstone Ferrari) and the new champion of the category Massimiliano Bianchi (Kessel Racing).