The team is on an upward trend, but talks of World Title are wide of the mark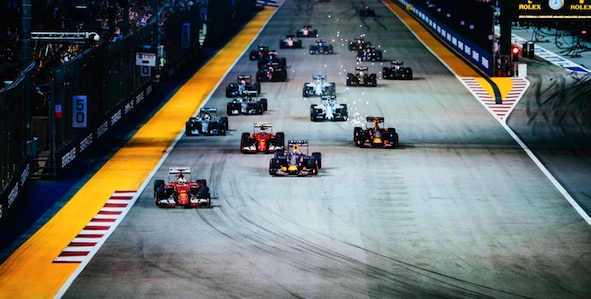 Maranello, 22 September – Sebastian Vettel's win at the last Singapore Grand Prix, with Kimi Raikkonen joining him on the podium, has been a formidable boost to the team's morale, and a proper reward to all the work the Scuderia has being doing so far. It was pretty obvious for the media to jump on the opportunity to talk about revamped chances to clinch the World Championship: but at the Scuderia, we have a different view, and all of us still keep our feet firmly on the ground.
One thing we definitely learned from this season is that results not only depend on development work and great commitment from both the drivers and the team, but also on the nature of the tracks we race on. We knew that Singapore, with its tight corners calling for traction and braking stability, would match the characteristics of the SF15-T car. During the season the car has been improved and, if we were to race at Melbourne today, we would probably be two seconds a lap quicker than last March. But other teams are making progress too, and this weekend at Suzuka we start with a fresh page.
The Japanese track has features (not-so-hard braking, fast corners, harder tire compounds) which come closer to those of Silverstone and Barcelona, where our car had undoubtedly struggled more to match the pace of our main competitors. One thing is being aware that we have done a good job so far; another thing is thinking that we may easily close the gap between Seb and Lewis Hamilton in the Driver's point standing, let alone the Constructors' title fight.
The reality of facts is that we will probably have to face other race weekends which will be way more difficult that the one we've just left behind us. Of course, both drivers and team want to go for the best possible result every time; but that doesn't automatically mean being capable of winning. Since the season began, the Scuderia has clinched three well-deserved wins, with Sebastian piling up more points than any other driver in the last few races, and Kimi back to the podium after doing very well in qualifying for the last two races. But we still have a long way to go, our approaching curve to Mercedes still being far from complete. And at Maranello, we're all well aware of this. That's why we still greatly respect our opponents and, far from being self-complacent, we keep our head down and work hard. Instead of chasing dreams, we pursue our own growth at every race weekend.