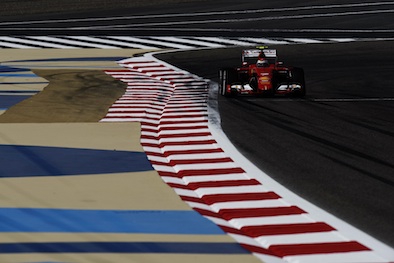 Sakhir, 17 April – The fourth round of the Formula 1 World Championship got underway with the two Ferraris topping the first time sheet at the Sakhir circuit.
Just a few days after the Chinese Grand Prix, the SF15-Ts of Kimi Raikkonen and Sebastian Vettel were first and second in the first free practice. The two Ferrari men concentrated on the usual task of working on set-up, with Kimi quickest in 1.37.827 and Sebastian second with a 1.38.029. Third was Valtteri Bottas with a 1.38.390 in the Williams.
Just a handful of laps for the Ferrari duo – 13 for Kimi and 12 for Sebastian- as they sat out much of the session in the pits, because the track is still very dusty. Vettel also had a sensor problem that had to be sorted out.