Monza 22/02/2007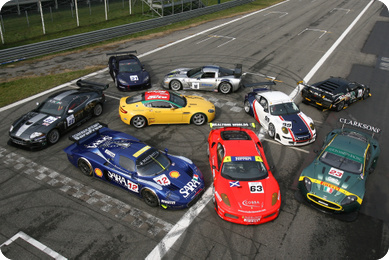 The 2007 season of the FIA GT Championship got underway in Monza, with a press conference and test session around the powerful circuit.
Three sessions took place on track for the GT1 and GT2 cars, with a total of 20 cars taking to the track.  The best time of the day was set by the nr 23 Aston Martin Racing BMS DBR9, of Fabio Babini and Jamie Davies, in the third and final session of the day.  The car was also fastest in the other two sessions.  The track started off quite wet, after heavy overnight rain, but dried later and times came down.  Second-fastest of the day was the Racing Alliance Aston Martin DBR9, followed by the All-Inkl.com Lamborghini Murciélago.
The overall best time in GT2, the best time was set by the Michelotto Ferrari 430 GT2, in the hands of Jaime Melo, with a lap of 1:50.157.  Edil Cris was the fastest of the GT2 teams taking part in this year's Championship, with a lap of 1:50.481 in the third session, closely followed by Scuderia Ecosse.
Other cars out testing today included the Rock Media Pagani Zonda, the Phoenix Aston DBR9, the BMS Scuderia Italia Porsche, the JMB and Playteam Maserati cars, Tech 9 Motorsport and AF Corse.
The day also included a well-attended press conference, where Stephane Ratel outlined his projects for the year ahead.  Guest of Honour Kristian Ghedina, downhill skier, took to the stage to explain his love of speed and to interview last year's Champion, Andrea Bertolini, Runner-up Andrea Piccini, and GT3 Champion Sean Edwards, who has moved up to GT2 this year with Tech9 Motorsport.